I went to SJ2W in northern Sweden in May 2013 to work the WPX DX CW contest with SM3WMV Micke, SM2LIY Pelle, SM2XJP Peter, and SE2T Kurt. The QTH is fantastic!  Several kms to the nearest neighbor, flat terrain and a very good antenna installations. Stacks on 40, 20, 15 and 10 as well as 4-SQ on 40m / 80m.  I have posted some pictures below. Click on the pictures to see comments for each picture. Stay tuned for more info! (Edit 11. Feb. 2015: since last time I have been operating from SJ2W more times and there will be additional images and writeups posted from later visits).
&nbsp
&nbsp
We are back from the Azores Island Hunt expedition. Approx 31000 QSOs were made during 24 hours of operation from the 9 stations when a hardcore team of DX-ers and contesters visited the islands (unofficial ADIF numbers incl. eventual dupes). Nine stations running pileups on 40, 20 and 17m were on the air on CW/SSB simultaneously. The stations total run rate were in average approx 1300 QSOs / hour. Above I have posted some initial selected pictures from the event. We would like to thank OH2BH, OH8NC, CU2CE, CU2DX and all the local Azores hams that made this event possible. What a great memory for life we all got! What characterizes the Azores is great openings on HF. The reason the major contesters in the world choose to win from the Azores is the location almost in the middle between USA and South America. During daytime 10m, 12m, 15m and 20 meter openings are something else than experienced on more northerly latitudes (extremely good). Please check in later at http://azores-islands-hunt.com/ for official information. Below is the information about the teams and operators:
TEAM FINLAND, SANTA MARIA, CU1ARM
Juha Hulkko, OH8NC
Kimmo Rautio, OH9MDV
Sérgio Oliveira, CU1AAD
TEAM NORWAY, SAO MIGUEL, CU2ARA
Marius Hauki. LB3HC
Ghis Penny, ON5NT
Guilherme Frias, CU2IF
TEAM USA (1), TERCEIRA, CU3URA
George Tranos, N2GA
Diane Ortiz, K2DO (YL)
Domingos Cabral, CU3BS
TEAM GERMANY, GRACIOSA, CU4ARG
Franz Langner, DJ9ZB
Richard Gottlieb, DF9TF
Guilherme Bento Frias, CU4AB
TEAM CANADA, ST JORGE, CU5AM
Yuri Onipko, VE3DZ
Ed Kulchenko, VE3FWA
José Silveira, CU5AM
TEAM DENMARK, PICO, CU6GRP
Alex Hansen,OZ7AM
Kenneth Hemstedt, OZ1IKY
Jorge Dutra, CU6AB
TEAM USA (2), FAIAL, CU7CRA
Michael Corey, KI1U
Richard Boyd, KE3Q
Manuel Bettencourt, CU7CA
TEAM BELGIUM, FLORES, CU8AO
Carine Ramon, ON7LX (YL)
Claude van Pottelsberghe de la Potterie, ON7TK
Frederic Fournier, CU8AAE
TEAM UNITED KINGDOM, CORVO, CU9AC
Nigel Cawthorne, G3TXF
Michael Wells, G7VJR
João Camara, CU9AC
Azores 9 Islands Hunt Organizing Commitee
Fernando Tavares, CU2BV, Chairman
Francisco Gil, CU2DX, ATA Representative
Jose Melo, CU2CE, Islands coordination
Martti Laine, CU2KG, Radio operations
&nbsp
&nbsp
I recently needed a new CW keyer with Winkey compatibility for use with my N1MM logging setup. K3NG has written some nice keyer code that I compiled and uploaded to one of my Arduino UNO boards that I had laying in the shack (if you want to try it, you need the latest  – above 1 – version of the Arduino "IDE"). Below you can see some pictures from making the prototype thru to ready made keyer with USB interface and adjustable speed button. I did not install the memory buttons, as I control the CW keyer via USB from N1MM or Hamradio Deluxe. It works very well with my Yaesu FT-450D but instead of the UNO I will eventually use a Mini Pro board with the Atmel Atmega 328. You can see more info on K3NGs site http://radioartisan.wordpress.com/arduino-cw-keyer/#comment-3255
Below is the schematic (full credit to K3NG). I have modded the design for my needs. Instead of the 2N2222 I use a TTL tolerant FET of type IRLIZ44N to drive the keyer output. Then I don't need the 100 ohm resistors. I also did connect a piezo tweeter directly to the CPU  without using the 2N222 transistor. It works ok. However the sound of the piezo tweeter is not the best in the world. Finally, as mentioned above, I did not install all the buttons. I installed only the command button to save space.  There is a need to do a small mod on the UNO hardware due to some reset issues. For that I will have to add another button that needs to be pressed when I want to upload code.
I also needed a CAT interface. You can use a FTDI chip for this task however the signal levels need to be transformed to +/- 12V. This I did with a MAX232 board that I had sitting in the shack. So now I have a CAT interface that is compatible with Win XP, NT, 2000, 98, Windows 7, Windows 8 etc since the FTDI chips are widely supported. It looks like … but works like …
Posted: September 25th, 2012 under
Amateur radio
,
DX
. Tags:
Arduino
,
AVR
,
CAT
,
CAT compatible
,
computer interface
,
CW
,
CW keyer
,
development
,
FTDI
,
Ham radio Deluxe
,
K3NG
,
LB3HC
,
microcontroller
,
mini
,
morse
,
morse code
,
N1MM
,
portable operation
,
prototype
,
USB
,
winkey
,
Yaesu
Comments: 3
&nbsp
&nbsp
It is often problematic to find a current list of DX clusters. Many lists exist on the Internet but few are updated. Also, lists in logging programs like Ham Radio Deluxe are often very old. I have found that it is best to go to the official DX cluster website and take a look at the current list.
http://www.dxcluster.info/telnet/index.php
&nbsp
&nbsp
Latest news: The 8S7X callsign has been allocated to LB3HC.  8S7X will be activated when operating from Sweden QTH. Stay tuned for more news.
&nbsp
&nbsp
Sketchup is a nice 3D drawing program. It is also free. (Lets hope it will stay that way after Trimble bought Sketchup from Google).
One very annoying "feature" of Sketchup that makes many new users abandon the tool is that there seems to be no way to control the plane you draw a rectangle onto (when using the rectangle tool). The arrow buttons don't work (why?) and it seems arbitrary what  plane the rectangle ends up on. Thanks to the nice people over at Sketchuation, I learned a secret: the rectangle locks on to the PLANE THAT IS MOST PARALELL to the PLANE OF YOUR SCREEN! TRY IT!
Now the rectangles are drawn on the blue-red plane.
Now the rectangles are drawn on the blue green plane.
By the way, the shift lock doesn't seem to work properly even if the Sketchup documentation seems to indicate that it should
&nbsp
&nbsp
Sometimes the need arises to upgrade an old Windows installation. If you do have a slow internet connection or no internet connection, this may be a significant time problem. A full Microsoft download of SP3 and all hot fixes can take many hours on a slow Internet connection. Perhaps you now think: why is this relevant? I always have a fast internet connection, don't I? But is this in fact true? What about at  a customer site with a slow DSL connection. What if the internet connection is down? What if it is an embedded system? What if you are installing from an old XP pre SP1 DVD where the new Microsoft Update methods are not supported? Well, in those cases you need WSUSOffline that can be downloaded from http://www.wsusoffline.net/ This is a set of scripts that automatically downloads the service packs, hot fixes, .NET frameworks and language support you need from Microsoft's servers. You can select what components to install (se below image). The install files together with an installer script can be copied onto a USB memory stick. When you run the installer script on the machine you want to upgrade, everything happens automatically and you will, when the process is finished, have a fully updated Windows installation. I used this to upgrade an old machine with an old outdated XP installation on, for use with my CNC machine numeric control software.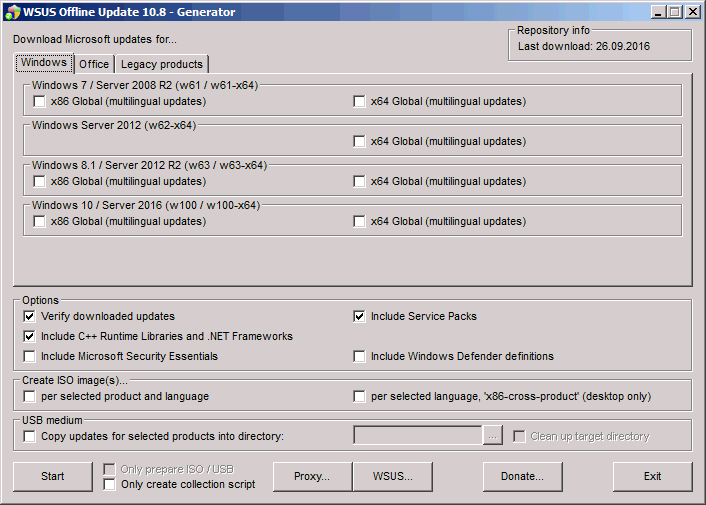 &nbsp
&nbsp
I am back from the megalocation at CR3L Madeira Island after working CQWW SSB with the R25 RRDXA team. It was a great weekend and we achieved good run rates however our targets were set at a higher QSO number. Since CR3L is in AF zone 33 we worked three pointers both to Europe and US and got a good score. That was fun. Claimed score looks like we will be around number 9 worldwide (a bit above 15M points). The CR3L Madeira station is located at Santana in a mountain side on Madeira overlooking salt water.  Thanks to the team! Ops: DF4UM, DH4JQ, DJ5KW, DJ8VC, DL1EK, LB3HC . Stay tuned for 2013 events.
| | | |
| --- | --- | --- |
| | | |
| Claimed #9 WW score in CQWW 2012 contest from CR3L (Madeira) | LB3HC in the foreground and DH4JQ in the background (we are working pileup) | DF4UM in the foreground and DJ5KW in the background (working pileup) |
| | | |
| DH4JQ on rig A | DL1EK in the foreground and DL8VC in the background (working pileup) | N1MM logger |
| | | |
| RIG B | Weather changes fast. Here the shack and the lower antenna in fog! | The team after the contest |
| | | |
| The 80m vertical | The 10m 5 el tower is "adjusted" by DL8VC! | The lower Threebander and 160m ant |
| | | |
| Ready for takeoff from Madeira Island | Approaching coastline from flight over Atlantic Ocean | On the way back to mainland Europe |
Posted: November 13th, 2012 under
Amateur radio
,
Contesting
. Tags:
amateur radio
,
claimed
,
contest
,
contest station
,
CQWW
,
CR3L
,
Madeira Island
,
multi two
,
pileup
,
Santana
,
score
,
SSB
Comments: none
&nbsp
&nbsp
Many amateur radio websites show the Solar Terrestrial Data "ticker" from N0NBH. However, many HF radio enthusiasts just look at the SN (solar spot number) and perhaps the K index. The truth is that the SN does not necessary say too much about the current radio conditions. So what should you look at to check the current conditions (more realtime information)?
Here is the secret: I have personally found that the SFI and the 304A as well as the X-Ray values are very good realtime clues. One example is from 21.Oct.2012. This Saturday in October 2012, the 10 meter band was wide open from early morning even as far north as Oslo, Norway. The conditions on 12 and 15 meters was also fantastic. A screenshot of the N0BNH "ticker" shows SFI well above 120, 304A well above 140, K like zero and A like three as well as an X ray index of B9,9. Note that SN (sunspots) is not near abnormally high at around 112 (keep in mind we are closing in on sunspot maximum in cycle 24 so the SN will likely be around 100 all the time). One could expect average conditions by just looking at the SN. However the conditions was nothing like average. They were very very good. What was notable from that day is the following: SFI was well above 120 so there was a strong flux, K was zero so the mag field was still undisturbed, A was 3 so the mag field had been holding undisturbed for some time, X-Ray was B9,9 and this meant that there was quite strong X ray radiation coming in, 304A was 172,5 and this meant there was also quite strong UV radiation coming in, Aurora was 1 so there was practically no Aurora activity. The conditions was fantastic on this date on all bands above 7 Mhz. So again here is the secret: don't just look at the SN for realtime information about the HF radio conditions.
Posted: October 21st, 2012 under
Amateur radio
,
Contesting
,
DX
. Tags:
304A
,
A index
,
amateur radio
,
Aurora
,
DX
,
ham radio
,
HF radio propagation
,
interpretation of solar data
,
K index
,
N0NBH
,
openings
,
prediction
,
Solar Flux
,
Solar spot
,
X-ray
Comments: none
&nbsp
&nbsp

The teams are arriving at the airport in Ponta Delgada at Sao Miguel island. A lot of luggage was brought in. Here the
Danish and German teams are waiting for their taxis. The DARC journalist is checking his photos on the digital camera as well to the left.

A too small car for rigs, linears and antennas when 9  teams arrive at the same time…

A team photo was taken in the backyard of the CU2ARA club station before teams were departing to their individual islands

Antenna and rig discussions are taking place in the backyard. The short CU2ARA tower that we used can be seen in the middle of the picture

Our guide Mr. Rui is also a pro photographer. Just look at all the cameras!

Ghis ON5NT is busy adjusting the inverted vee antenna to resonance

Marius, LB3HC is using his DG8SAQ Vector Network Analyzer to check the multiband antennas before the event.The CU2ARA members CU2IF and CU2CN and are helping out

The organizing committee is formally opening the event!
Since we had a city location with some noise, we wanted to do a remote hilltop station experiment to learn from that experience for future events. After first checking with the official organizers for  approval, we travelled to one of the points in the island where there is almost 360 degrees negative horizon and no broadcast installations.This would enable a good remote location. On the above picture you can see the takeoff towards Europe. Wow! We did have some technical challenges that were solved, but the main QSO amount by far was made with the main stations down at CU2ARA. The remote station was left operational so the CU2 ops could do more work on it after the event
  Above:
CU2CN climbs the tower on the mountaintop to put up the highest point of our sloping antenna. The antenna was sloping towards west (US).

Here is the house where the experimental remote station was mounted. We had a 100mbit/sec WLAN connection down to CU2ARA.

Another picture of the takeoff to the east (against Europe). A pretty good QTH for the remote site.  (The Azores are full of beautiful views like this. Visit to see for youself!)

Our remote station is located inside the hilltop house. A Yaesu FT857 and HRD was used. More dedicated remote systems should be used in a future event it was decided.

Here is the HRD remote screen where we controlled the hilltop remote station. This was done down in the city where the CU2ARA shack is located. (As OH2BH encouraged, we did it the innovative Arcala way!). Notice the Norwegian flag by the way!

ON5NT is working pileup

LB3HC is working pileup

The CU2ARA residents are working pileup

Our antennas downtown at CU2ARA. We used a 3 el yagi for 20 meters and inverted vees for the other bands (17 and 40).
Posted: October 6th, 2012 under
Amateur radio
,
DX
,
Uncategorized
. Tags:
Azores Island Hunt
,
captioned pictures
,
CU2ARA
,
hf
,
hilltop
,
LB3HC
,
ON5NT
,
pileup
,
remote station
,
shortwave
,
www.azores-islands-hunt.com
Comments: none
&nbsp
&nbsp